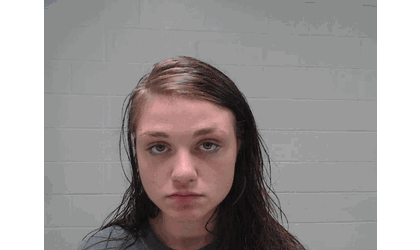 Kristina Smith (Credit: Atchison Co Sheriff's Office)
(KAIR)--An Independence, Missouri woman is jailed in Atchison County, arrested Wednesday for the theft of a vehicle from an Atchison acquaintance.
According to a release from Atchison Police Chief Mike Wilson, 23-year-old Kristina Smith was taken into custody Wednesday morning after the alleged Tuesday evening theft.
According to Wilson, the 2011 Volkswagen Passat was reportedly stolen from the 1500 block of Atchison's Main Street, when the owner of the car left Smith inside while retrieving something that had been left at a nearby car wash. Instead of waiting, it's alleged Smith drove off with the vehicle, which Wilson said ran out of gas at K-7 and 330th Road Wedneday morning, leading to Smith's arrest and to the recovery of the car.
Following her arrest, Smith was booked into the Atchison County Jail.
She's held on a $1,500 bond.