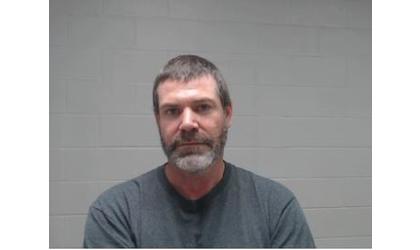 Jason Seager (Credit: Atchison Co Sheriff's Office)
(KAIR)--An alleged threat with a baseball bat sent an Atchison man to jail on a charge for aggravated assault.
That's according to a release from Atchison Police Chief Mike Wilson, which states that 44-year-old Jason Seager was arrested Monday in connection with an aggravated assault that occurred earlier that morning in the 300 block of Santa Fe Street.
Officers, according to the release, responded to that location, a parking lot outside an apartment complex, around 1:15 Monday morning, where they met a 39-year-old man who "reported that he had been threatened by a [man] with a baseball bat." According to the report, the man had been working on a vehicle in the parking lot at the time of the alleged threat.
Both men live in the apartment complex, with the victim telling police he was familiar with Seager, "but there had not been any previous confrontation."
The report states that Seager left the scene of the alleged ballbat threat, but the police investigation led to his Monday afternoon arrest.
Along with the charge of aggravated assault, Seager is held on two District Court warrants for failure to appear in court.
No one was physically hurt in Monday's incident.