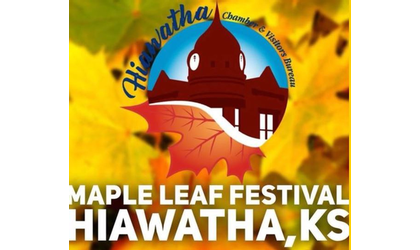 (KNZA)--The Hiawatha Maple Leaf Festival will take place Saturday ( September 25) around the Brown County Courthouse Square in downtown Hiawatha.
Festival Chair Ryan Meininger says the festival will run from 10 to 5.
He said it will include live musical entertainment—including Graceful Grit at 10:30, Red Dirt Band at noon, Stephanie Gummelt at 1:00 and Nirvana Petersen at 2:30.
In addition there will be children's and adult activities--including laser tag, a rock climbing wall, 3 bouncy houses, leaps and bounds, screamer slide, a mechanical bull and log slammer.
A $10 wristband will be available at the festival for the events.
For an additional $10 fee, there will be blade and timber axe throwing.
Local wildlife experts ArcWild will be on hand for a presentation with wild animals at 10 am and children's educational entertainment will be provide by the Omaha Children's Museum from 11:00 to 3.
Local magician Barron Stringfellow will perform at 11:30 and 2:00.
In addition, expect Spiderman, Elsa and Captain America to make an appearance.
Craft and food vendors will be set up around the courthouse square.
The festival, organized by the Hiawatha Chamber and Visitor's Bureau, is being held in conjunction with the Brown County Historical Society's Heritage Days, which will take at the Ag Museum on East Iowa Street. A trolley will be offering transportation to and from the Ag Museum.
The day will kick-off will the 2nd Annual Glazin' the Streets 5K and Donut Dash Fun Run sponsored by Hiawatha Parks and Recreation.