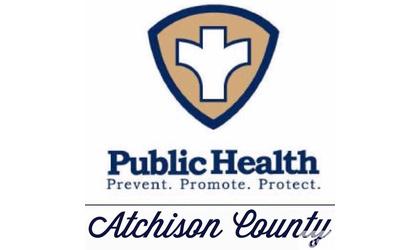 (KAIR)--Atchison County health officials are reporting a one week, 19-case increase in the number of confirmed, positive cases of COVID-19 in the county.
That's according to coronavirus-related statistics released Wednesday by the Atchison County office of Northeast Kansas Multi-County Health. However, the number of those hospitalized for virus-related reasons has dropped in half.
The latest figures show 68 active cases of COVID-19, up from 49 active cases reported October 13.
One week ago, 4 residents were reported as hospitalized due to the coronavirus. One week later, that number has dropped to two.
According to the health office, three of Atchison County's current 68 cases involve children under the age of 5; 11 cases are those aged 5 to 12; 14 cases involve those aged 13 to 21; 12 cases are aged 22 to 35; 17 cases involve residents from 36 to 50; 8 cases are those aged 51 to 65, while 3 are over the age of 65.
The latest virus-related figures released by the Kansas Department of Health and Environment show that Atchison County has had a total of 2,363 cases since the pandemic began.
24 have died.