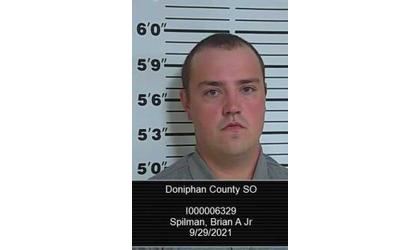 (KNZA)--An Atchison man convicted of involuntary manslaughter in the beating death of a Cummings man in 2019 has been sentenced to more than 2 ½ years in prison.
25-year-old Brian Spilman, Jr., recently learned his fate in Doniphan County District Court.
His 32-month prison sentence is to be followed by 24-months post-release supervision.
A Doniphan County jury found Spilman guilty of the felony offense in September. He had been charged with second-degree murder.
Spilman was among three Atchison men charged in the death of 42-year-old Jason Pantle.
Authorities allege the trio engaged in altercations with Pantle during a September 22, 2019 party in southern Doniphan County. Pantle died later at a Kansas City Hospital after suffering what investigators called serious head injuries.
Scott Vandeloo pleaded no-contest in October to a charge of involuntary manslaughter and scheduled to be sentenced December 8.
A jury trial for the third defendant, Matthew " Cole" Scherer, is scheduled to begin March 28, 2022.