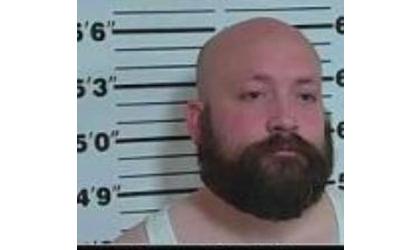 Nathaniel Keller ( Credit: Doniphan Co Sheriff's Office)
(KNZA)--A former Doniphan County Sheriff's deputy has pleaded not guilty to multiple charges.
Nathaniel Keller entered the plea last week in Doniphan County District Court to 15 counts—including criminal sodomy, aggravated indecent liberties with a child and domestic battery.
A pre-trial conference hearing was set for August 29.
The Kansas Chief reports a new attorney, Greg Robinson, of Lansing, has been appointed to represent Keller after two previous attorney's withdrew, claiming he would not communicate and assist in his own defense.
Keller was arrested in June of last year after Kansas Bureau of Investigation agents served a search warrant on is home.
He is charged with sex crimes alleged to have occurred in 2017 with a child 14 or older, but less than 16 years of age. Keller is also charged with domestic-related crimes alleged to have occurred in 2019 and 2021.
He remains free on a $500,000 bond.