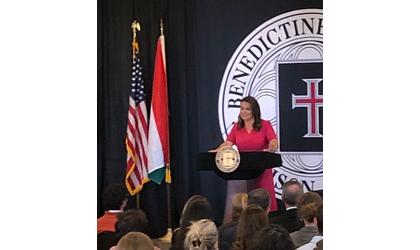 President Katalin Novak, of Hungary, visited the campus of Atchison's Benedictine College Monday morning, September 26, 2022. (Photo credit: Neil Wieland)
(KAIR)--A landmark event for Atchison's Benedictine College, as for the first time in the school's history, it had the privilege of hosting a foreign head of state.
President Katalin Novak of Hungary visited the campus Monday morning.
Neil Wieland was in attendance at the private event and filed this report.