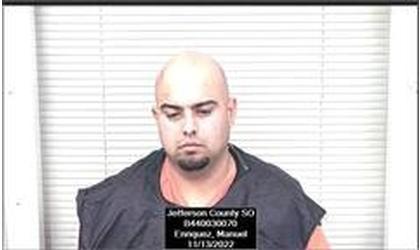 Manuel Enriquez ( Credit: Jefferson Co Sheriff's Office)
(KNZA)--Charges have been filed in connection with a head-on collision over the weekend in Jefferson County that claimed the life of a Kansas Air National Guard airman.
According to court documents, 35-year-old Manuel Enriquez, of Kansas City, Missouri, was formally charged Tuesday in Jefferson County District Court with a felony count of involuntary manslaughter while driving under the influence of alcohol or drugs. In addition, Enriquez was charged with a misdemeanor count of driving under the influence.
He made his first appearance Tuesday in a Jefferson County courtroom to hear the charges.
The Kansas Highway Patrol said Enriquez was driving a pickup truck on U.S. 24 Highway in southern Jefferson County late Saturday night when he crossed the center line and collided head-on with a car driven by 23-year-old Cheyanne Branson, of Diana, Texas.
Branson was pronounced dead at the scene. Enriquez was not hurt.
The Kansas Air National Guard said Branson served as a career development specialist with the 190th Air Refueling Wing for more than four years.
Enriquez remains in the Jefferson County Jail, held on a $150,000 bond.