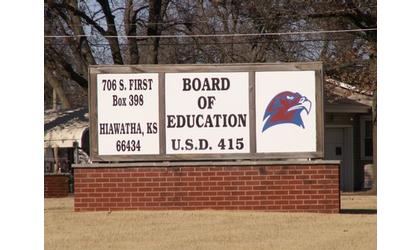 (KNZA)--The Hiawatha School District will be searching for a new food service provider.
Superintendent Lonnie Moser informed the USD 415 Board of Education last week that the district's current food service provider, Taher, Inc., has notified the district that they will no longer be doing business with the district due to financial issues.
Moser said Taher provided the district 60 days notice, despite the contract requiring 90 days. That gets the district to January 1st.
There is a 45-day mandatory advertising period to search for food vendors.
Moser said there will be about a 10-day gap between the district's services with Taher and the new food service company. He said the district does have contingency plans in place to handle the situation.
In other business, Curtis Winter with DCS Services meet with the board via zoom to go over bids for the installation of a new HVAC system in the Ag building and wood shop.
The total cost will be $521,838, which is less than had been budgeted.
Most of the funding for the project will come from federal Esser funds .
The board voted to give DCS Services permission to move ahead with the project.