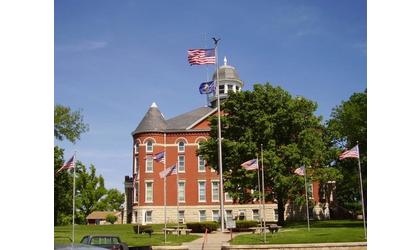 Doniphan County Courthouse In Troy
(KNZA)--The administrator of Doniphan County Health Department/Home Health Agency is seeking a pay increase for nurses.
Administrator Sheryl Pierce meet with the Doniphan County Commission Monday to discuss the matter.
According to the unofficial meeting minutes, Pierce requested to raise the starting wage of nurses to $30 an hour to make wages competitive. She said they are having difficulty hiring staff with the current wages.
Pierce also requested a $3 an hour pay increase for current full and part-time nurses.
Commissioner Wayne Grable indicated wages need to be reviewed during the budgeting process. Commissioner Bobby Hall said he would like to know the reimbursement amounts from Medicaid and private insurance before justifying an increase.
It was the consensus of commissioners to revisit the issue with Pierce in the upcoming weeks.