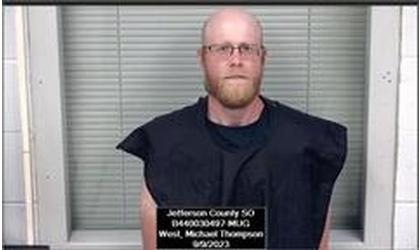 Michael T. West/Credit: Jefferson Co Sheriff
(KAIR)--The 30-year-old Ozawkie man, accused of beating his father to death with a hammer at the home they shared, is now charged for his death.
According to court documents, Jefferson County Attorney Joshua Ney, on Tuesday, filed an amended complaint in Jefferson County District Court charging Michael T. West with first-degree murder in the beating death of his 59-year-old father, also named Michael.
The younger West had originally been charged with attempted first-degree murder following the alleged, Saturday morning attack, but the charge was upgraded following the death of his father Monday.
The elder West, who had been hospitalized following the beating, died after being removed from life support.
The 30-year-old West remains held in the Jefferson County Jail without bond.
A court appearance is set for September 21.
According to a release from the Jefferson County Sheriff's Office, Saturday morning, around 8:30, Jefferson County Sheriff's deputies were joined by the Jefferson County Ambulance Service, and First Responders, in responding to 6926 Shawnee Lane, in Lake Ridge Estates, at Ozawkie, following a report that a man had been hit in the head several times with a blunt object at that address.
It was there they found the elder West suffering from life threatening injuries, and he was transported for treatment at a Topeka hospital, where he later died.