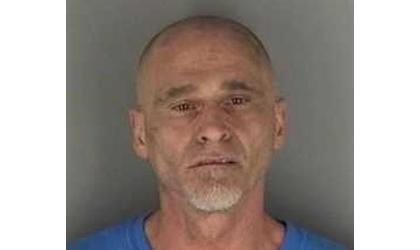 Gary Wayne Emery Jr. of Meriden, is named as a burglary suspect in a September 13, 2023 Jackson County Sheriff's investigation. (Photo credit: Jackson County Sheriff)
(KAIR)--A Meriden man has been named to Jackson County's Most Wanted list, identified by investigators as a suspect in a recent residential burglary, and a reward is offered for his whereabouts.
Jackson County Sheriff Tim Morse, in a release, said his "deputies and detectives responded to a report of a residential burglary near 182nd and U.S. Hwy 75" on Wednesday, and have since identified 52-year-old Gary Wayne Emery Jr., of Meriden, as a suspect in the case.
He's described as a white man who stands 5-foot-8, weighs 185 pounds, and is balding with brown hair.
He may be driving a dark blue Nissan Murano, or a 2018 Black Ford Fusion.
Morse said the day after the burglary, Thursday, a search warrant was served on a Jefferson County residence, southeast of Meriden, but details are not immediately stated regarding the outcome of the search.
A reward is being offered for information leading to the capture of Emery, with those who have such information told to contact the Jackson County Sheriff's Office at 785-364-2251