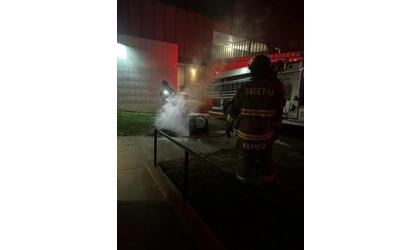 Early Saturday morning fire at SHS ( Credit: Sabetha Fire Dept.)
(KNZA)--No major damage was reported in an early Saturday morning fire at Sabetha High School.
The Sabetha Fire Department said in a social media post that firefighters responded to the school shortly before 2:45 a.m. after being notified by an alarm company for a fire alarm sounding and smoke detector activation at the building.
Upon arrival, the Department said firefighters found a moderate smoke condition in the building, and began to search for the source of the smoke.
Firefighters found a washing machine on fire in the wrestling room of the new addition and extinguished the fire, containing it to the room of origin.
Firefighters remained on scene for another hour evacuating smoke from the building with their ventilation fans so the fire alarms could be reset without going off again.
Firefighters cleared the scene after 4:00 a.m.