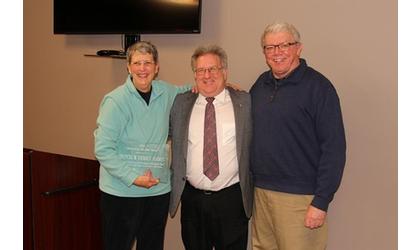 (KLZA)-- Butch and Dobey Falter Haws grew up in Falls City and graduated from Falls City High School. Butch continued his education at Peru State and graduated in 1969 with a degree in industrial education and was a member of Epsilon Pi Tau. Dobey, a graduate of UNL, got summer school hours from PSC.
Both value the excellent education they received during their Bobcat years in the mid to late 1960s and have continued to enjoy campus activities with many of their lifelong alumni friends.
They will be honored as the 2023 Peru State Homecoming Grand Marshals on Saturday, Sept. 30, according to President Michael Evans. The Homecoming Parade begins at 10 a.m.
Lincoln has been their home for the past 50+ years. After military service and 13 years of teaching for Lincoln Public Schools, Butch started a manufacturing company which did business internationally for 32 years. Dobey taught elementary Physical Education for 40 years for LPS.
Since retirement, they have been involved in volunteer projects in Peru, Falls City, and Lincoln.
They were instrumental in establishing the John Philip Falter Museum in Falls City which highlights works by the world-renowned illustrator, a relative of Dobey's.
Their contributions to the Lincoln Community Foundation help support charitable organizations, and they have proudly backed many Peru State College projects including the new football facilities at the Oak Bowl, the campus entrance, the Performing Arts Center, and the exciting latest development - Project ROAR. That project, now underway, includes the first new major building construction at Nebraska's first college in more than 40 years.