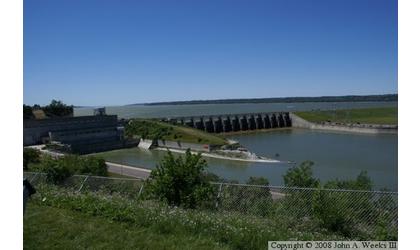 Gavins Point Dam
(KLZA)-- Rainfall in Central Nebraska and South Dakota have increased inflows to the Missouri River reservoirs causing pool levels to rise.
The U.S. Army Corps of Engineers has increased the release of water at the Gavins Point Dam at Yankton, South Dakota to 60-thousand cubic feet per second as of Thursday.
2 to 5 inches of rain have fallen in the past several days causing an increase in inflows into Oaha, Big Bend, Fort Randall and Gavins Point Dams causing the pool levels to rise. Increasing the releases from Gavins Point Dam will allow more water to pass through the system and slow the rise in the pool levels.
The Corps of Engineers say they are monitoring conditions along the length of the Missouri River and this increased flow of water at Gavins Point will not reach Kansas City until after Monday, May 27. It will reach portions of Nebraska, Iowa, Northwest Missouri and Northeast Kansas earlier.
There is no estimate on how long the releases will remain at 60-thousand CFS at Gavins Point. Additional precipitation, lack of precipitation or other circumstances could cause adjustments to the reservoir release rates.
Mountain snowpack is normal, but there is still more than 8-inches of snow water equivalent coming from the mountain snowmelt.
Releases from the dams on the Missouri River are expected to remain higher than average into the fall because the reservoirs have to be at the base of the annual flood control pool by the start of the 2020 runoff season.
The Missouri River if forecast to crest at Rulo Thursday evening at 21 feet, drop slightly then climb back to around 21 feet on Wednesday, May 29. That is four feet above flood stage.
At Brownville the crest is predicted at 36.1 feet Friday morning, drop some and then climb back to 36 feet which is two feet above flood stage on Tuesday the 28th.