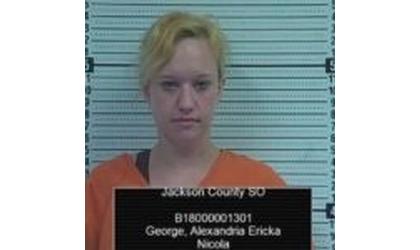 Alexandria George/Credit: Jackson Co Sheriff's Office
(KAIR)--A Topeka woman is jailed in Jackson County, arrested Wednesday afternoon in Holton after a drug investigation by the Jackson County Sheriff's Department..
Jackson County Sheriff Tim Morse told MSC News the suspect, identified as 28-year-old Alexandria George, resisted arrest and it took a few deputies to take her into custody.
Morse, in a news release, said George had allegedly been communicating by cellphone with an undercover deputy prior to her arrest.
She was taken into custody near 8th and Ohio Streets on charges including possession of methamphetamine with the intent to sell, possession of drug paraphernalia, felony obstruction, two counts of battery on a law enforcement officer, unlawful use of a communication device for a felony drug crime, and disorderly conduct.
Following her arrest, George was booked into the Jackson County Jail.
The Holton Police Department assisted with the investigation.