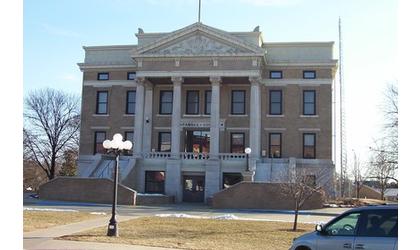 Pawnee County Courthouse
(KLZA)-- Pawnee County Commissioners opened bids for a pair of culvert projects when they met Tuesday.
Five companies submitted bids with the apparent low bid for the two projects submitted by Tim Sisco of Sterling. The bids have been submitted to Mainelli, Wagner and Associates for their review.
Corrugated metal pipes will be utilized for both projects, one west of Dubois and the other west of Burchard.
Sheriff Jayme Reed met with Commissioners to discuss the Nemaha / Pawnee County Law Enforcement Mutual Aid and Assistance Agreement. Commissioner Ron Seitz asked to have the County Attorney review the agreement before signing and possible drafting agreements with other neighboring counties.
Juvenile Justice Program Administrator Laura Osborne discussed the 2019-20 Juvenile Justice Grant with the Board. The grant funding was cut for the new year, making the Pawnee County matching funds $1,024, $95 less than last year. The total match for the counties involved with be $80,245. Board members Seitz and Jan Lang voted to approve the local match for the grant. Commission Chairman Dennis Schaardt was absent from the meeting.
Commissioners also voted to close the Pawnee County offices all day on Monday, December 24.