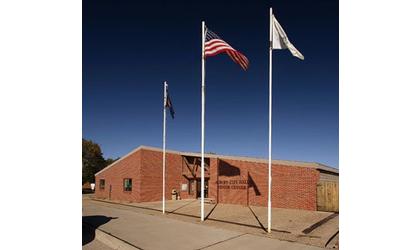 (KLZA)-- The Auburn City Council heard an update on the proposed Community Center during Monday night's Council meeting.
Auburn Mayor Scott Kudrna said the conceptual drawings are on display at City Hall and should be up on the Auburn website soon.
Auburn voters will be receiving a mail-in ballot next week. The ballots will be mailed out by the Nemaha County Clerk's Office April 17th and must be returned to the office by 5 p.m. May 9th.
Mayor Kudrna explained the cost projections for the roughly 20-thousand square foot facility will be $2.6-million. The annual utility and management costs are estimated at $39,000. The parking lot and landscaping costs are $600-thousand and the equipment and furnishings are estimated at $300-thousand for a total cost of $3.5-million.
Depending on the configuration for the event, seating capacity will range from 504 to more than 1,300.
The City of Auburn has an option on property on the north side of Highway 136 near the bowling alley if voters approved the half-cent sales tax increase to pay for the project.
Mayor Kudrna says the potential, annual economic impact the building has been estimated by an economist for NPPD. The direct impact for Auburn is estimated at $330,000 with a secondary impact to other businesses in the community estimated at $4295,000, making the total annual impact $825,000.
Approximately 2,300 ballots will be mailed out. The County Clerk's Office says it will cost $3.04 per ballot for the mail-in election versus a cost of $5.37 per ballot if polling places were to be used.