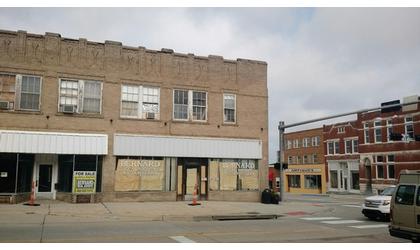 Caples Building
(KLZA)-- The Auburn City Council has been aggressive in attempting to get buildings and houses in the community that are in disrepair cleaned up and in the hands of people who will build on the lots that have been cleaned up.
Monday night the Council approved a resolution to abate a nuisance property at 1803 P Street. A resolution was also approved to declare a house at 1923 M Street a nuisance property. City crews have had to mow the yard twice this year. The owner is not a resident of Auburn.
Another building issue for Auburn currently is the Caples Buildings on the southwest corner of the intersection of Highways 75 and 136. The building was deemed a nuisance property by the Council Monday night.
Mayor Scott Kudrna said bricks began to fall off the building this spring making it a hazard, despite the building being a marquee structure at the center of the community.
Barricades have been placed along the building to keep people from walking in front of it. The condemned building is currently sitting empty with no utility services.
Monday nights Council action will allow the City to go in, make needed repairs and file a lien against the property. If owners Ken and Angela Caples refuse to pay for the repairs, the next step would be for the City to foreclose on the property.