Falls City Cobblestone Festival begins
08/22/2019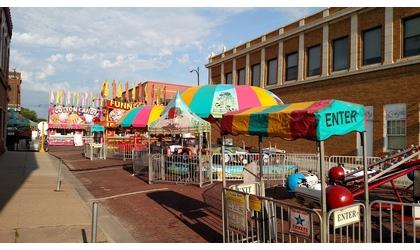 (KLZA)-- Wild Wild West is the theme for the 2019 Cobblestone Festival in Falls City.
Events begin with the annual Falls City Volunteer Fire Department fishing contest for kids Thursday from 5 – 7:00 P.M. at Stanton Lake Park. Registration begins at 4.
The Fire Department will serve hot dogs and soda during the event with prizes and ice cream handed out afterwards.
Friday events include the opening of Sam's Amusements Carnival on Stone Street from 6 – 10:00 P.M. and the American Legion Riders Bike Night from 6 -10:00. A beer garden and dance will be held at the Elks Lodge beginning at 8.
Saturday is a full day of events beginning with the Community Medical Center Fun Run at Stanton Lake Park at 7:00 A.M.
The Cobblestone "Wild Wild West" Car Show will be open from 8:00 A.M. - 3:00 P.M. at 18th and Stone Streets.
Craft and food vendors will be open on Stone Street throughout the day Saturday opening at 9:00 A.M.
Other events Saturday include:
9 A.M. - Frog Jumping Contest at 17th and Stone.
9:45 A.M. - crowning of Little Mr. and Miss Cobblestone.
10:15 A.M. Buchanan Highlanders Bagpipe Concert at 1st Presbyterian Church.
11 A.M. - The annual Cobblestone parade on Harlan Street.
1 P.M. - Falls City Tiger Classic Golf Tournament
Hot Wheels Races
Sams Amusements Carnival opens for the day.
Legacy Dance Academy performance.
1:30 P.M. - Stone Street Revival featuring Ryan Castle, Lisa Castle and Stefanie Wenz will perform on Stone Street Stage.
2 P.M. - FFA Alumni Bohemian Tractor Pull - 16th and Chase.
BPO Does – Supermarket Sweep.
3 P.M. - Buffalo Chip throwing contest - 16th and Chase.
4 – 7:00 P.M. - Bingo at 17th and Stone Street.
7:00 P.M. - Falls City Area Jaycee's Demolition Derby at Jaycee's Arena.
Sunday:
The craft and food vendors will be open on Stone Street from noon – 4:00 P.M.
1-4:00 P.M. - Bingo at 17th and Stone Streets.
1 – 5:00 P.M. - Carnival is open
7:00 P.M. - Vespers Service featuring music by the Barkers. To be held at the Nazarene Church.
© Many Signals Communications
You will need to be logged in to leave a comment.
Please Login The posting of advertisements, profanity, or personal attacks is prohibited.
Click here to review our Terms of Use.